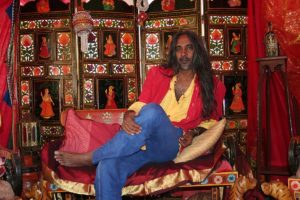 Gilbert Pounia, leader de ZISKAKAN,
(photo prise en 2006)
Nous sommes fiers de pouvoir enfin vous annoncer la prochaine ré édition d'une oeuvre majeure de Maloya. Des informations à suivre au sujet de cette très belle collaboration…
En attendant, découvrez ou redécouvrez le magnifique concert de Ziskakan à la Cité des Arts de la Réunion accompagné par la charismatique Maya Kamaty.
« Dans la sève rebelle du Maloya, miroir de la bouillonnante culture créole réunionnaise, Gilbert Pounia, leader du groupe Ziskakan, a trouvé matière à nourrir son coeur. Groupe pionnier dès la fin des années 70, Ziskakan a fait du Maloya son cheval de bataille et de la défense de la culture créole son credo. » RFI musique
We are proud to finally announce the next release of a major work of Maloya.
Information will follow about this wonderful collaboration …
In the meantime, discover or rediscover the fabulous concert of Ziskakan at La Cité des Arts de la Réunion with the charismatic Maya Kamaty.